Create your own sound by sending an e-mail to robot@spess.com. The scratchrobot will scratch your message and reply in a unique way.
| | |
| --- | --- |
| | // BIO |
| | Stijn Slabbinck (1976) graduated from the Academy of Fine Arts in Ghent where he studied 3d-multimedia. Two years ago, he founded the company SPESS, which provides technical support for events, film and theater productions. Slabbinck has always been particularly interested in VJ-performances, automation and special effects, which consequently exerted great influence on his latest work. |
| | |
| | // URL |
| | |
| | |
Scratchrobot
by Stijn Slabbinck (BE)

The Scratchrobot is an installation based on two turntables, a computer and a robot-arm. When an e-mail is sent to robot@spess.com , the message will be analyzed and then turned into signals that control the robot. They make it "scratch" a series of sounds, which are recorded and sent back to the sender of the e-mail. The spectators are invited to interact with the system by activating the robot with their personal input. Every e-mail results in a unique sound.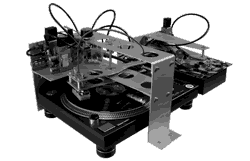 Scratchrobot was invented while questioning different ways of communication, its patterns and code systems. Building it was an attempt to "control" the daily info-flow in a multimedia way.